Friday, February 3, 2012 - 22:00
If you're one of the millions who've played The Elder Scrolls V: Skyrim, or any of the computer role-playing games, you'll get a kick out of Grosjean Brothers Production's Skyrim: 2012. If you haven't, give it a look anyway, and I'll explain after the jump.
-------
For those unaware, Skyrim is the latest installment of the long-running Elder Scrolls series by Bethesda Softworks. It was hotly anticipated and sold about seven million copies within a week of its release last November. It's a sandbox style game, in that it doesn't require a player to follow a particular story path. Some players have even taken a pacifist approach to what is normally a combat-heavy game.
The conceit of Skyrim: 2012 is that it is set in the world of the Elder Scrolls games, but in a modern period rather than their vaguely mediaeval setting. Despite the period change, everything works pretty much the same way. While an obvious cost-saver, it also allows highlighting some of the odder aspects of this type of game in general, and Skyrim in particular. Some of these things, like overly-informative NPCs (non-player characters,) are necessary tropes that allow a player to orient themselves in the game world. Some of them are simply there for flavoring, but design or time constraints make them stand out. The premier example of this is that having been an adventurer who "took an arrow in the knee" seems to be a job requirement for guards in Skyrim, since they all have the same set of random dialog. The phrase has taken on a life of its own, and wisely the Grosjean brothers have left it alone.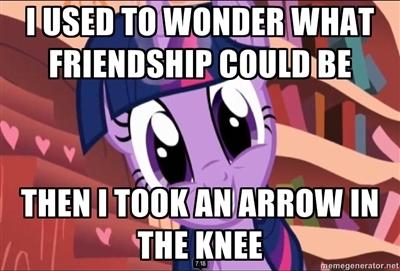 The Grosjean bothers are a pair of twins who are currently students in Film and Graphic design (it's unclear if that's a combined degree, or each is pursuing one.) This is an unfolding project, and a second video was released about a week ago, just a few weeks after the first one.
I was pleased to see that the second one dials everything up a notch. The "load screen" tips are not just amusing in themselves, but also inform some of what's going on, such as the Khajit (a cat-like race in Skyrim) having devolved into house pets. Fortunately much of the generic humor remains, like the NPCs somewhat less than epic response to what is essentially a home invasion, or the casual cruelty that gamers tend to inflict on NPCs. We also get an indication that whatever happened in Riften (a commercial hub in Skyrim) is having ongoing repercussions for our (anti?) heroes.
I'm eager to see where this series goes from here. Given the release schedule so far, I expect a third installment shortly. Until then, have a look at their blooper reel.
-------
You can follow the Grosjean brothers on their YouTube channel
Have a fan film or web series you'd like to see reviewed? Hit up Church at church@republibot.com